http://myespn.go.com/blogs/afceast/0-4-390/Patriots--evolving-offense-gets-Moss-rolling.html?lpos=spotlight&lid=tab2pos1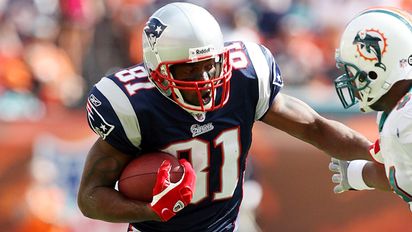 MIAMI -- Miami Dolphins safety Yeremiah Bell was informed Randy Moss felt insulted they would dare use single coverage against him.

Bell didn't know what Moss expected from them.

The New England Patriots emptied their backfield, lined up extra receivers and operated out of the shotgun. There's only so much a pass defense can do.

"When they spread out five wide, you can't double anybody," Bell said. "How do you do that?"

The Dolphins clearly didn't have any answers. Moss had been marginalized so often, but on Sunday he enjoyed his finest game of the season and one of the best of his career to help the Patriots defeat the Dolphins 48-28, tying the season series.

"It's the kind of stuff you dream up on video games," Patriots tight end Benjamin Watson said of Moss' performance: eight receptions, 125 yards, three touchdowns.

It was the sort of afternoon Moss grew accustomed to last year, while the Patriots obliterated records with Tom Brady at the controls.