http://www.macrumors.com/2008/08/19/screenshots-for-upcoming-nike-app-for-iphone/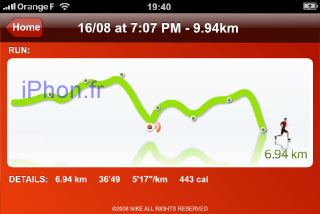 iPhon.fr posts (via Gizmodo) screenshots for the upcoming Nike+ running application for iPhone. Nike+ is a running accessory for the iPod Nano that allows you to track your running.
With a sensor in your shoe and a receiver on your iPod nano, your run takes on a whole new dimension. See the minutes tick by. Watch the miles unfold. Hear real-time feedback. All to your favorite music — including the one song that always gets you through the home stretch.
A new version of the iPhone and iPod touch had been reported but no announcements have been made since. The iPhone's always-on internet connection is expected to allow you to update your training log on the fly. The screenshots also reveal that mapping is included.
http://translate.google.com/translate?hl=en&langpair=fr%7Cen&u=http://www.iphon.fr/post/2008/08/18/Nike-plus-iPhone-:-captures-d-ecrans