http://www.macrumors.com/2008/09/10/genius-feature-coming-to-older-ipod-classics/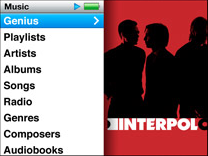 Crave.cnet.co.uk has posted a brief look at the new iPod Classic (120GB) that was released at Apple's media event yesterday. Like the new iPod Nano, the new Classic incorporates on-the-go Genius playlists. According to Apple representatives, the company will be releasing a software update to bring Genius playlists to existing iPod classics:
Apple representatives at the event yesterday told us, however, that a free software upgrade will be adding the Genius feature to existing iPod classics.
While only the iPod Classics are specifically mentioned, we would expect that the previous iPod Nanos would also get a similar update.
Genius playlists were introduced yesterday and provide a Pandora-like music recommendation system where similar songs in your library are grouped automatically in a playlist.
http://crave.cnet.co.uk/digitalmusic/0,39029432,49298843,00.htm