http://www.macrumors.com/iphone/2008/09/26/shazam-reaches-over-1-5-million-downloads/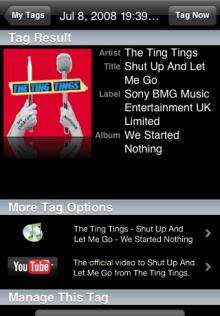 Today's announcement by the company that over 1.5 million people have downloaded the iPhone app seemed like a good excuse to finally post something about the app.
"The Shazam iPhone application has had a phenomenal user response both in the number of downloads and the number of tracks being identified," said Andrew Fisher, Shazam's CEO. "The application taps into the user's desire to discover, capture and share their music experiences and the success confirms our belief that music recognition will become a ubiquitous feature for all mobile phones in the future."
Shazam was one of the early favorites in the App Store that offered iPhone users a unique and free tool to identify music. If you've ever heard a song and wondered what the song was, this App is for you. Simply let Shazam listen to a piece of the song and it will identify the artist and track name. Songs are then linked automatically to YouTube videos and iTunes.
As a free download, there's really no reason not to try it out.
http://www.businesswire.com/portal/site/google/?ndmViewId=news_view&newsId=20080925005571&newsLang=en