http://sports.espn.go.com/nfl/news/story?id=3723021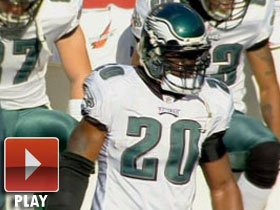 PHILADELPHIA -- Donovan McNabb will start when the Philadelphia Eagles host the Arizona Cardinals on Thursday night.

The five-time Pro Bowl quarterback was benched for the first time in his career at halftime of Philadelphia's 36-7 loss at Baltimore on Sunday. Second-year pro Kevin Kolb played poorly against the Ravens, and Eagles coach Andy Reid said Monday he's going back to McNabb.

"Sometimes you have to step back to step forward in a positive way and Donovan will do that," Reid said. "This has nothing to do with Kolb's performance or Donovan's performance."

The Eagles (5-5-1) are on the verge of missing the playoffs for the third time in four years since losing the 2005 Super Bowl. No matter how they finish, this could be McNabb's last season in Philadelphia.